Long-range shooting can be fun, but it all depends on the quality of optics you are using. A good optic will leave you smiling because of the clarity and wide field of view it offers, and this is precisely what Trijicon MRO-C-2200005 2.0 offers you.
It's true that poor quality optic can make your day tiresome out in the bush. While there are many companies offering these products, Trijicon has established itself as a reputable company thanks to the quality devices it has continued to produce at affordable prices.
Trijicon MRO-C-2200005 2.0, a compact rifle optic made in the USA, is designed to be cheap and is very durable. With an aircraft-grade aluminum body, this optics can withstand harsh environments and still remain in good shape after knocks and bruises.
In terms of performance, Trijicon MRO-C-2200005 2.0 is in a class of its own. If you own a shotgun, rifle, or carbine, this optics can greatly improve your shooting precision.
Besides, it has three adjustments with elevation, windage, and brightness settings. One outstanding thing about these settings is that they are easy to adjust and are precise.
Coming with an ambidextrous brightness dial operation, this optic suits both right and left-handed people. The combination of all these features makes Trijicon MRO-C-2200005 2.0 the best tactical scope in the optic devices market.
Features and Benefits of Trijicon MRO-C-2200005 2.0
It comes with adjustable brightness settings
In terms of imaging, the Trijicon MRO-C-2200005 2.0 comes with eight brightness settings. Of the eight settings, five are for daylight use, one is for a super bright environment, and two are for night vision. The mid-position off-feature is very adjustable and will offer you a personalized view.
With an objective lens of 25mm, you enjoy a large aperture that is parallax free which ensures more awareness. In fact, its large objective lens is an explicit feature that is absent in most red-dot style optics. This helps the shooter achieve more precise accuracy at a faster rate. It is one of the best optics with the fastest target accusation on the market.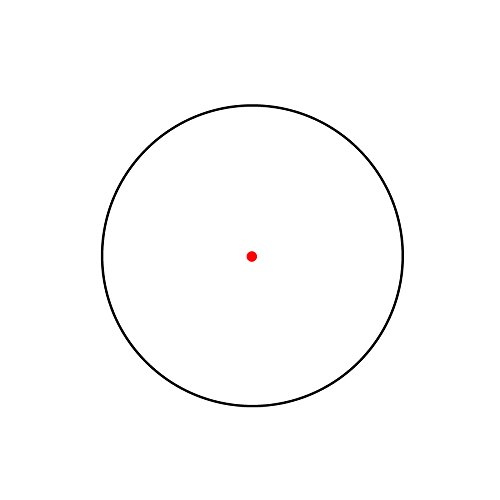 This MRO also provides a wide area of view that is larger than what most optics in its category and price range provides.
It offers ambidextrous brightness control
The position of its brightness control allows for easy adjustments for both left and right-handed users. This means that you can shoot continuously without having to remove your hand from the trigger.
The off-handed feature offered by this tactical scope gives you more clarity of your target thereby increasing your ability to prevent imminent threat before it's too late.
This optic has large and high-quality glasses that offers superior clarity when you are targeting. With the front objective lens angled innovatively thereby enabling you to see clearly even in low-light conditions. This boosts your confidence when aiming at your target. Besides, the lenses are multicoated, which maximizes the light reaching your eye. This enables you to get clearer images of your target.
The glasses are designed to produce zero reflections in any lighting system. This ensures you get quality images of your targets every time.
Waterproof and Sturdy Construction
The Trijicon MRO-C-2200005 2.0 is forged in an aircraft-grade aluminum body that is hard anodized to protect it from harsh environmental elements.
With the uncertain weather nowadays, you need an optic that can be used in any weather. With this MRO, you don't have to worry about hunting in any conditions thanks to its waterproof design. This optic is waterproof up to water depth of 45 meters.
Its tubes are also filled with dry nitrogen making it fog proof. In fact, Trijicon MRO-C-2200005 2.0 has been tested for durability and strengths and has scored highly in these fields. It works great for carbines, riffles, and shotguns.
Pros of Trijicon MRO-C-2200005 2.0
It is waterproof and therefore suited for all-weather use. Besides, you can use it during the day, under very bright light, and also during the night thanks to its range of brightness settings
It offers a reliable performance thanks to its large area of view as well as long battery life
It is also lightweight and compact, weight at about 4.1 ounces and 2.6 inches in length. This makes it easy to carry around
It is offered at an affordable price
Highly durable thanks to its sturdy construction
Cons of Trijicon MRO-C-2200005 2.0
It has low magnification
The six brightness settings are quite inadequate for mid-day use especially in a desert
From the Trijicon MRO-C-2200005 2.0 Tactical Scope reviews, we also learned that its two MOA Red Dot is not as sharp as advertised
The Bottom Line
If you are looking for a quality and durable rifle scope, then Trijicon MRO-C-2200005 2.0 is the best choice for you. It has attracted many great reviews thanks to the wide range of features and capabilities that it offers. It is a tactical scope we can highly recommend. It is also noted for its pistol red dot sight product.